News Events News Events News Events



February 2017 Klinische Avonden Paard - NL
Great series of meetings. Enjoying being back in Holland. Here a few taster slides:
Unravelling the various aspects of Equine Metabolic Syndrome: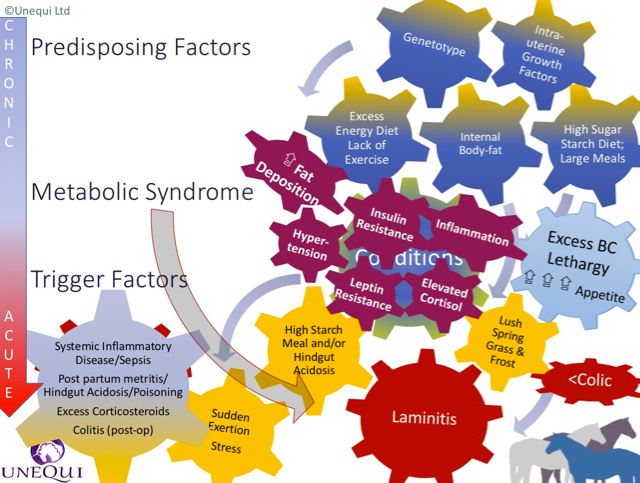 Opinion: My take on latest knowledge of Body Condition Scoring - - always keep an eye for the 4 yellow 'alarm' zones highlighted below and act upon this before obesity develops. The green descriptors are the ideal and should be maintained for a minimum of 6 month of the year (winter). Yes - that means 2-2.5 (not 3/5) - or on the Henneke Scale 4-4.5 (not 5/9). CNS score - aim for 1 ideal.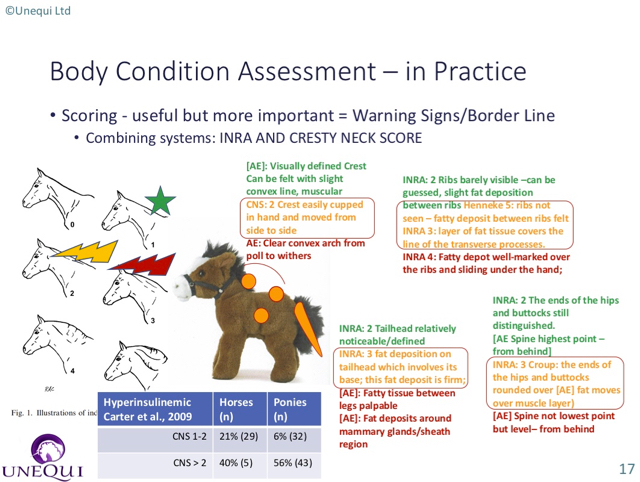 February 8-9th For my Dutch Subscribers: Feeding horses with EMS and PPID
https://youtu.be/K55z_-3apOI
Saturday March 4th 2017
Understanding Human Behavioural Change (HBC)

and communication skills - for vets, behaviourists and trainers - one of many interesting
HBC workshops
24

th

-27

th

March 2017:
Newsletter December 2016/ January 2017
2016 was amazing but 2017 will be even better...
HBCAW
In September I was extremely lucky to be 'a little bit' involved in the First International Human Behaviour Change for Animal Welfare Congress. Yes, it's an area many of us are working in as lecturers, teachers, consultants and researchers but never have consciously thought about. At the congress those who have consciously thought about this a lot shared their amazing experiences and knowledge and it was the most awe-inspiring conference I have ever attended - you heard right, it was not specifically about nutrition - but it was very close to my heart and the absolute openness and willingness to share and learn was amazing. How do you tell a friend, colleague or client that what they've always done may not be the best for their animal? I think we've all been there....
Please have a look at the Website
- here you can find links to all the talks which have been openly shared on YouTube. There is something for everyone: - from looking at human behaviour change when working with donkeys in Africa to 'why do we still punish dogs' - from the psychology, to ethics to empathy, to marketing and use of social media.... If you feel that there is sometimes little hope in making a change, I can highly recommend the most inspiring talk of all by Manoj Gautam.
Publications
We have finally published it - new forage recommendations and I am very happy to be privileged to have been part of this:
Harris, P. A. ; Ellis, A. D. ; Fradinho, M. J. ; Jansson, A. ; Julliand, V. ; Luthersson, N. ; Santos, A. S. ; Vervuert, I. (2016). Review: Feeding conserved forage to horses: Recent advances and recommendations.
Animal,
1-10.
DOI:
https://doi.org/10.1017/S1751731116002469
Please contact me for a press release summary or infogram.
Mullard, Jessica ; Berger, Jeannine M. ; Ellis, Andrea D. ; Dyson, Sue 2016 Development of an ethogram to describe facial expressions in ridden horses (FEReq). Journal of Veterinary Behavior: Clinical Applications and Research
ANIVADO update
The first English courses will be available early next year. If you are interested in expanding your understanding make sure to save the site and get a log in for updates. I will be a tutor on some of these courses so will keep you informed as well. More soon...
Newsletter June 2016
April 2016 - Portugal
Jornadas de Equinicultura
In April I attended this great meeting in Portugal and gave a workshop and a couple of presentations. The meeting was excellently organised and as usual I have learned a lot more about horses once again. Kathrin Stock gave an excellent presentation highlighting that with new tools in genomics we can focus on health issues much more than previously, when performance was the No. 1 selector for breeding programmes. I also learnt a lot more about Equestrian Tourism and how vital it can be to local communities. If you thought about a horse-back holiday have a look at the
Centre Hipico Alcaria
-
I might catch you there one day - can't have all work and no play!
April 2016 - busy month! Workshop 'Teaching Research Methods and Statistics'
I very much enjoyed delivering the first half of this 4 day Workshop recently. Excellent feedback and some food for thought, as always. We may have some good experience in research and statistics but it doesn't mean we are good at teaching/passing this on - I always learn and adapt. The workshop focused on how to pass on this knowledge with 'maximum' effect for students while delivering knowledge at a 'minimum' need to know basis.
May 2016 - The Netherlands - Launch ANIVADO
A new training and education site has been launched which allows you to 'tap' into Animal Scientists and Specialists from around the world. The first launch is for our Dutch friends only, but take a peek and keep an eye out as International Courses will be coming on line soon. If you are interested in expanding your understanding make sure to save the site and get a log in for updates. I will be a tutor on some of these courses so will keep you informed as well.
Events 2015 - 2016
26-27th March 2016
Early Warning - Important New UK Event:

Horse Health Expo

at Stoneleigh -

This event aims to bridge the Gap between Scientific Knowledge and out Latest Understanding and the Public - Information you can trust!!

find out all about it at:

horsehealthexpo.com
15 - 18th June 2016
European Workshop on Equine Nutrition 2016 returns to its 'Birthplace' Dijon.

Hope to see you all there !!

2016 Website now Live!
News
June 2015 - HUMANS BEHAVING BADLY?
This month I attended a great meeting cheekily called 'Animals behaving badly' at the Royal Veterinary College in London organised by CABI. It became soon very clear that it's not the animals behaving badly but the humans in terms of the situations we put them in and the demands we make of them - animals simply react in a way we do not like and as a consequence of stress may develop abnormal behaviours. This message needs to get through clearer to the general public and 'learning' about the needs and behaviour of animals we are in contact with is vital, and in my mind needs to begin from an early age.
An excellent presentation was given by Roly Owers, Chief Executive of World Horse Welfare (many still know as ILPH) on problem behaviours in horses and how they can be prevented and dealt with. One of the key welfare issues he highlighted within the UK is the indiscriminate over breeding of horses for profit, many of whom are passed from pillar to post and often end up unwanted, kept and treated incorrectly or badly and thus developing behavioural problems (and in my experience finally sold at small market auctions - see paper Salt and Ellis in Archive). Professor Don Broom released his latest edition of Animal Behaviour and discussed the importance of animal needs, especially in relation to social interaction. Social/Herd/Pack animals should never be kept isolated -
that also means, if you have a dog that you leave 'home alone', then you should have a second dog so they can keep
each other
company - loosing some of your pack is not as bad as loosing 'all' of your pack. Dr Lisa Collins highlighted the methods and difficulties in assessing welfare status of animals,
partially due to their different adaptation and coping strategies to stressors
.
If you want to find out more about the presentations have a look
here.
April 2015
Had a great time AND learned a lot at EEHNC - SEE THE PHOTOS
here
.
PHOTOGRAPHY BY UNEQUI LTD.
You can catch up with the take home messages from invited speakers on the
"7

th

Equine congress" YouTube channel
March 2015
March 25th-27th, hope to see you there!
February 2015
Ellis, A. D., Fell, M., Luck, K., Gill, L., Owen, H., Briars, H., & ... Harris, P. (2015). Effect of forage presentation on feed intake behaviour in stabled horses.
Applied Animal Behaviour Science
, doi:10.1016/j.applanim.2015.01.010
January 2015
HAPPY NEW YEAR FROM UNEQUI LIMITED
Unequi Creativity - Christmas Cards now available, to see more click here: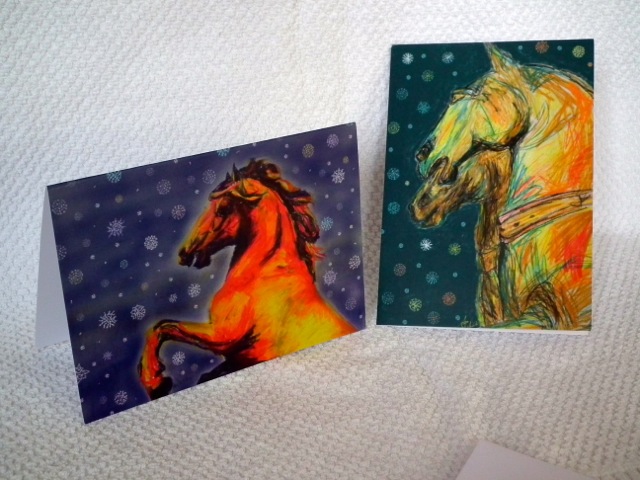 December 2014
Completed this years Lectures on the Nutrition Module of the
MSc Equine Science at Edinburgh University
. I thoroughly enjoyed the e-lectures and the great interaction between the students. As always I have learned a lot from the process and from the students who brought an incredible array of experience and knowledge to our discussions and I believe the students have had a similar experience from their feedback. Thanks to all you out there in: Sweden, The Netherlands, South Africa, Brazil, Australia, New Zealand, USA, Austria, Spain, France …. Wish I could do a little tour and visit you all, ha ha. .. let me know if I missed someone...
2014 Publications
November 2014:
Andrea D. Ellis, Melissa Stephenson, Michaela Preece, Pat Harris. 2014 A novel approach to systematically compare behavioural patterns between and within groups of horses, Applied Animal Behaviour Science 161 (2014) 60–74; Free Access until January 18th
October 2014
Ellis, A. D., Redgate, S., Zirchenko, S., Barfoot, C. and Harris P. 2014 The effect of presenting multi-layered forage on night-time budgets of stabled horses, In Proceedings of the European Workshop on Equine Nutrition, Leipzig University, pp.98-100
July 2014
Bracun A, Ellis A. D., Hall C. A retinoscopic survey of 333 horses and ponies in the UK. Veterinary Ophthalmology [serial online]. July 2, 2014;17:90.
September 2014: EWEN, Leipzig - Extended Abstracts Open Source!

The Meeting was a resounding success with lots of scientific and applied discussion on equine metabolic processes, health and performance. The quality of presentations was as usual excellent and EWEN has lived up to its name 'Workshop' by supporting lots of discussion and interaction. The pre-conference workshops between scientists focused on the following areas:
Evaluation of Feed additives; Nutrigenomics; Practical Feeding Advice; Alternative fibre Sources; Obesity;
Please contact me if you are interested in a Summary of latest research findings and practical implications.

For the first time this year some full papers of the conference will be published in ANIMAL over the next two months.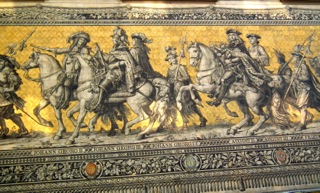 And other important questions on equine nutrition were explored: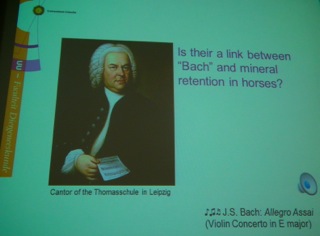 (DvDoorn)
06 June 2014:
Abstract accepted for EWEN 2014 - see you all in Leipzig!!
07 March 2014:

Abstract submissions now open for EWEN 2014: 7th European Workshop on Equine Nutrition: The impact of nutrition on Metabolism; ABSTRACT DEADLINE 1 May 2014
18th February 2014:
ABSTRACT SUBMISSION FOR European Association of Animal Production - click here to find out more:

Please sign the petition to give Animal Welfare Organisations more 'fast' acting powers to remove animals which are suffering here

17.January 2014:
Dr Andrea Ellis will be presenting a paper entitled 'Animal Welfare and Forage Intake' at the Leipzig Veterinary Congress 2014. The paper explores the importance of forage intake with a focus on horses and their physiological but also ethological requirements. In addition the understanding of welfare will be explored within this context.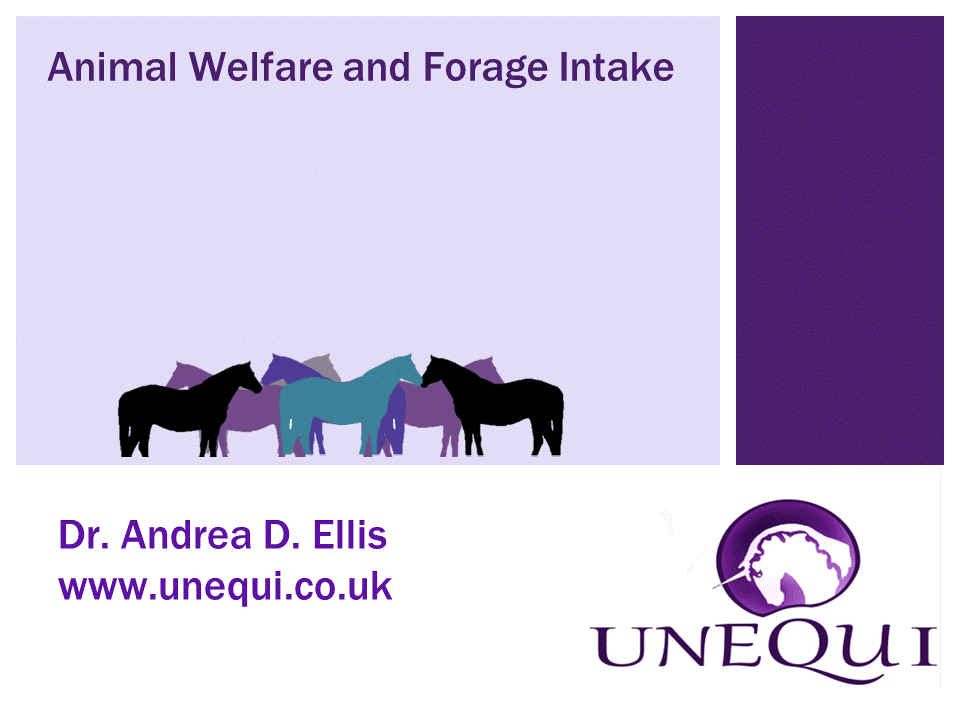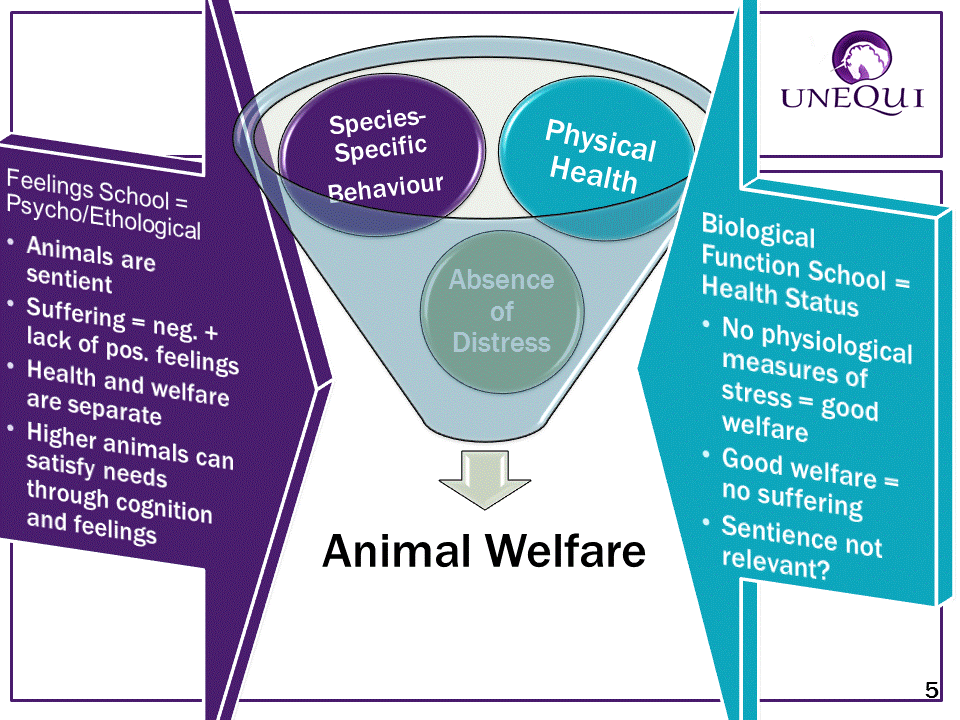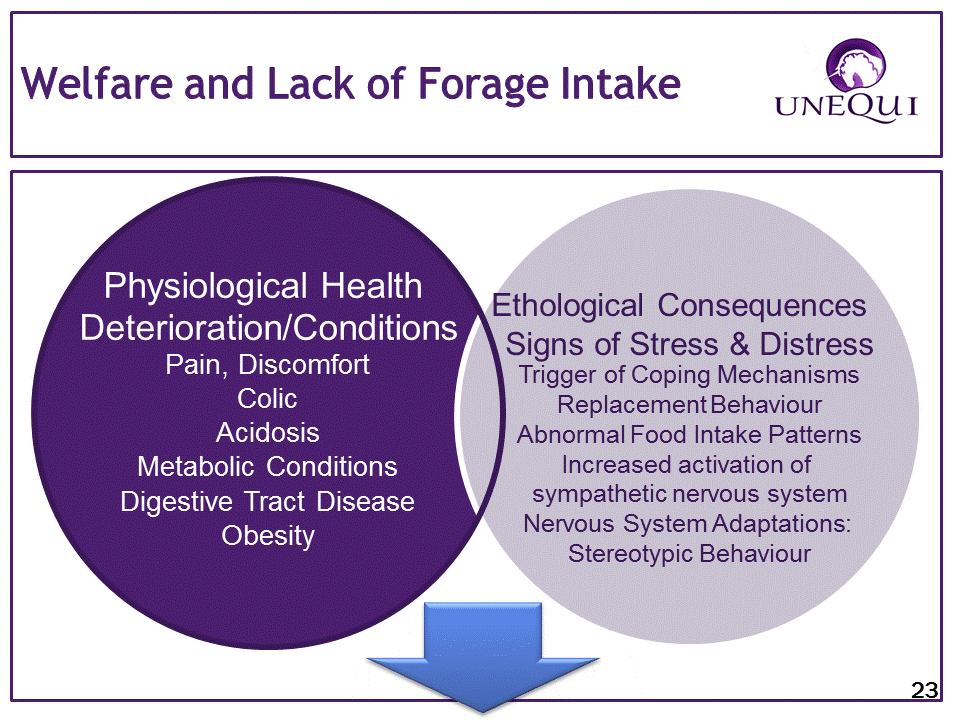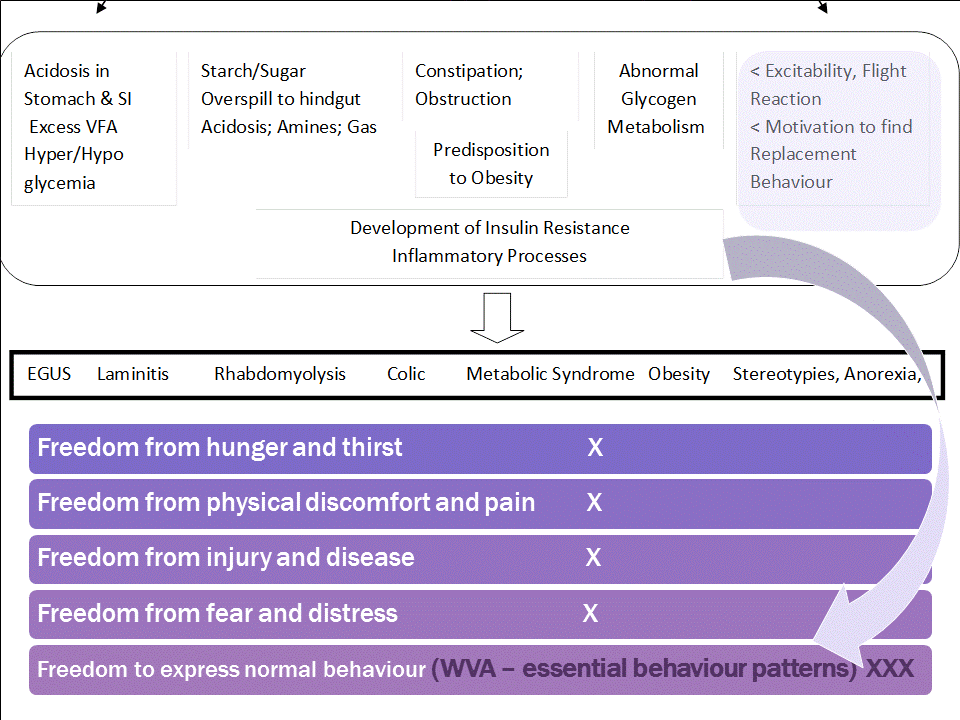 01.January 2014: Opinionated - traditions and visual image of horses
From the 1st of January
forcing horses into hyperflexion
has become illegal in Switzerland. Unequi welcomes this development. It may not yet lead to riders necessarily abandoning this training method completely - work to increase the understanding of riders' and trainers' as well as Dressage judges to voluntarily wish/choose not to use hyperflexion needs to be continued. If the use of hyperflexion at any point in the training gives riders an edge in a competition it will be used. Dressage is an Art - the visual experience of the horse and the 'expectation' of muscle development and outline are a strong tradition and visual cultural image which is engrained deeply in most of us, as we have grown up with it. As a nutritionist I am still fighting the traditional image of fat plump horses being seen as healthy and normal (Body Condition Score 'FAT'', 3.5/5 or 6/9).
7. October 2013:
A new publication on the influence of boot design on heat on surface temperature of tendons has been accepted in the Journal for Comparative Exercise Physiology
(see Archive)
. This is a pioneering pilot study which aims to pave the way for further in depth research. The Study was also presented at the Equine NUtrition and TRAining COnference 2013, held in Bonn, Germany.
Events:
7. Leipzig Veterinary Congress & 8th International Conference on Equine Reproductive Medicine: 16-18 January 2014;
7th European Workshop on Equine Nutrition: The impact of nutrition on Metabolism; ABSTRACT DEADLINE 1 May 2014